Start mile: 2402.4, 7/15/2018
Today was another day of visual splendor – so I turned off the audible books and the introspection, and instead focused externally on the scenery. Nature's beauty supplanted my thirst for rigor in self analysis (and admittedly mental exhaustion from doing exactly that).
Morning was routine, and driven by a routine now well established from many days on the trail. Realizing that I haven't put that routine to paper yet, here goes:
Wake up between 4:45 and 6:00, depending on exhaustion, bird activity, and need for miles
For the next 90 minutes to two hours, close down camp:

Finish blog entries
Make oatmeal
Review plans for the day, possible tent sites to hit by end of day. Review water availability.
Segregate today's food apportionment into the "Today Bag" that holds all of the food for the day except dinner (photo above)
Pack all dry sacks for the backpack : utilities sack, sleeping bag, ThermaRest, food storage bags, water bag, water reservoir, winter bag, clothes bag, map bag, etc.
Close up the tent, dry out the fly and tarp
Eat oatmeal
Pack up the backpack, refresh water if a wet camp
Do the morning "duty"

8:00 AM: Hike hard – no books, just note taking and photos
9:30 AM: have my morning ProBar
11:30 AM: have my electrolyte powder in my water bottle
12:30 PM: have lunch – two tortillas with either tuna or peanut butter. Start audible book to help focus my walking energies.
2:30 PM: have another power bar, this time either a nature valley oats and honey or a snickers bar
4:00 PM: my one big optional meal – Ramen! – which I would have only every third day or so – all dependent on how far I had to go and how exhausted I was by this point. Also, I would try to make some more firm plans on where to tent, and backup options in case it turns up to be taken.
6:30 PM to 7:30 PM: Start getting serious about a tent site. I use meal #6 – electrolyte fruit gummies – to help me drive hard to the final resting point
7:30 PM – Make camp (set up tent, make dinner, write some notes in blogs)
9:00 PM – Collapse, or if not, work a bit more on blogging.
Hitting out on the trail, it was quickly obvious that this morning was in for a treat – and that despite above, it would be anything but routine. The trail climbed from the saddle nestled above two alpine lakes (Joe and Edd's lakes) – and where I camped last night – and immediately attached itself along a long wall running the length of the valley I saw from Kendall Katwalk from yesterday.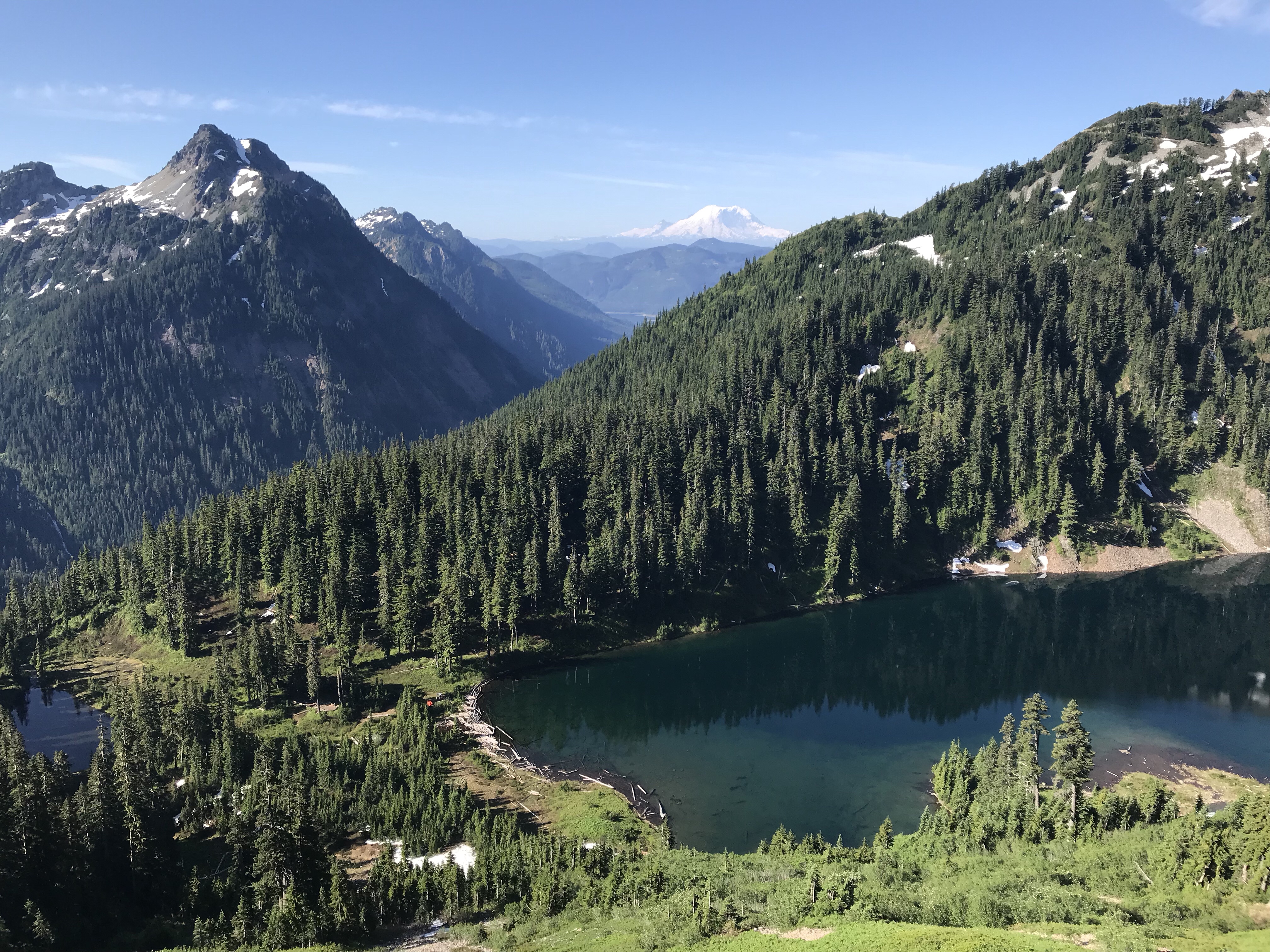 Looking ahead, the trail way up ahead at the end of the wall ducks over a small pass and into another valley yet to be seen. This pass could be seen as a distant spot in yesterday's views from the Katwalk – and today still seemed to be just as distant.
This hugging of the wall below the large spires and cliffs of the Four Brothers reminded me greatly of the Garden Wall trail (aka the Highline Trail) in Glacier National Park, one of my most favorite hikes in the U.S.
Along the way, I met two SOBO Aussies – a couple – and took a few moments to trade in reflections on the trail. She was wearing camp shoes because she had given up on the Altra Lone Peak 3.5 shoes (i.e. same as mine) that were the de facto standard on the trail. She was having excruciating pain in her Achilles (sound familiar?) and was convinced that it was the "0% drop" nature of the shoes that was the source. Definitely an interesting idea – but without camp shoes, I had no way to pursue the theory.
I also learned that they despised American coffee – but love the people. (Isnt it interesting that learned tastes like coffee evoke such regional fervor – expected, but the minds inability to see its own biasby up ringing is astoubding). Their trail names were "IcyButt" and "Neil" – and yes, this is the second couple in which the guys managed to give a mildly demeaning trail name to his spouse, but not received any in vice versa.
Around another bend or two, I met Simba – a nice and clearly capable SOBO hiker.
Views, views and more views continued to assault me and my mileage for the day. My phone was out with every bend, capturing the moment.
If I only showed an image or two, you would think it was a penultimate viewpoint.
But the reality was the whole morning was filled with views.
And thus you have to suffer from the image overload instead, which sadly also demotes the conveyance of wonder.
How perfectly Rainer was framed by the valley below was something I would talk about to hikers for days – warning the SOBO hikers to turn around so they wouldn't miss the alignment.
For the record, I also met three hikers doing just the Stevens pass to Snoqualmie Pass section. In fact, in the days to come, I would meet quite a number of people doing just this section – it appears to be a very common section hike, understandable given the views.
There is something magical to see the trail rounding corners into thin air:
Occasionally the trail had to be blasted away in a stone outcropping:
Followed by more fields hiding beneath the Four Brothers.
Also as a reminder, despite yet another very hot day (it was 95 degrees in Portland), I had plenty of snow fields to cross along the way. They were deceptively dangerous, as given their slope, a runaway acceleration into an uncontrolled slide awaited you if you slipped. Take a look at the size of the trees at the end of this precarious snow field – at that long of a slide without an ice axe to self arrest with, I'd be hitting those trees at an incredible speed.
Also joining me alongside the snow along the wall route was plenty of mountain heather to provide an extra tasting of beauty. My wife and I share a common love of heather, particularly with outstretched hands running along the soft tips of new growth.
The heather was both white and pink:
The distant pass inched forward with splendor:
At last, I reached the pass at the end of the wall and was granted entrance into an entirely new valley that would be my home for the rest of the day.
In the new valley, I was granted a dominating new viewpoint of Mt. Stuart, that was suddenly much closer (but still quite distant) than my previous sightings over the past week. You can see it in the top right of the image below. The mountain is fascinating – it rises like a mount doom over its neighbors. It is the second highest non-volcanic peak in the state, rising over 5,000 ft higher than its direct neighbors. It is a fascinating and iconic mountain – almost as if it were aspiring to be like its volcanic neighbors.
The new valley also granted new peaks to examine and memorize. Foremost, Lemah Mountain and neighboring Chimney Rock, Overcoat Peak, Big Chief Mountain and Chikamin Peak to the northwest. Plus, I would be journeying around the back side of the Four Brothers along which I walked this morning.
Heading down into the new valley, I met a SOBO thru hiker with a trail name of "Mando" – pronounced not Man-Do, but like comMANDO. To my pleasant surprise, he was the first person I met besides my Canadian friend Henry that was older than me. He was decked out with the latest gear, slim and fit clearly before ever hitting the trail, and somehow looked like he just stepped out of an upscale barber shop, with a neatly trimmed gray beard and tight crew cut. His seriousness for the trail exuded from him (as did a fellow thru hiker also comment on later that day when we spent a moment gossiping on the day's batch of SOBO hikers).
Mando introduced me to a new way to do the PCT called the "flip route". While it has many variants, his route started at the Mexican Border where he hiked north until the snow covered Sierra Nevada. Then he left the trail all the way to the Canadian border and headed southbound until he reach his previous exit point. In this method he was hoping to avoid as much of the snow issues as possible, but little did he know ahead of time how long the snow stayed around this summer in Washington.
Upon rounding one of the many, many switchbacks on the near 3,000 elevation drop into the valley, I happened upon a roaring waterfall on Delate Creek. It was clearly overflowing it's normal banks with the sudden heat and huge snow reserves to feed it.
Strangely, it was the first significant waterfall in all my hours hiking the PCT. That anomaly I had no explanation for – and would love to hear from readers. Did the surveyors fear waterfalls? Are they more rare than I thought? Does the crest nature of the trail cause them not to have the chance to form?
To my joy, while pondering this question my old friend Henry the Canadian rejoined me after not seeing him for several days. He was making camp here after having made it all the way from Snoqualmie in the morning.
Back to the switchbacks, I rounded a bend on another creek that was so full it was shooting out of the ground.
The frequency of the switchbacks down the valley matched the frequency of the views in the morning. I soon crossed into another old burnout.
The trail descended more deeply into the valley, signalling that we were headed to the deep valley floor so that we could climb up a new mountain range. On the trail at the valley floor I met three more SOBO hikers, three happy-go-lucky gals named "Poker Face" (who was from Belgium), "Full Moon" and (!) "Jack the Ripper".
As I hit the valley floor, the sign posts warned me of what was to come: "South Lemah Bridge Out".
To comfort me, hemlock pine cones coated the ground. It's funny, but coming upon a grove of hemlock is the equivalent of 20 minutes in a hot tub. They are so soft and cushioning to the feet that you instantly feel like you can walk miles further.
Another side note – I pondered about a comment from a friend on some writings about my dad, and how they were so moving to them. Curiously, I looked back at the writings and didn't find them particularly impactful – but then I remembered that this friend has a estranged relationship with their own father.
And then I realized today on the trail – it was as if the hole made from the estranged father – that valley basin that was within my friend was filled with the small mountain stream that was the story of my father. Of course, I'm not suggesting with the word "small" that I don't feel immensely towards to my own father, to the contrary, but rather my writings were a small mountain stream.
It was a good reminder that every action, every statement from someone usually reveals far more about them, than anything to do with yourself in the midst of dialogue. We have the ability to discern people, if we just be listen. And very little in human discourse is about you, except what you yourself say.
With these thoughts I arrived to find my metaphors shattered with the missing bridge to connect them. Sometimes the literal knocks you over. I forded the snow melt laden river up to my knees.
Moving on, I enjoyed some Queen's Cup lilies along the way.
I also marveled at how some of the bridges managed to stay standing despite the disrepair of their railings – or having entire trees land on top of them.
One other sad note is how often the PCT signs are stolen along the trail. To my enjoyment, PCTA had recently installed a beautiful full size trail sign – making for a great sight to spur me on to the tent site.
At last, I found a small campsite next to a meadow. It seemed ideal, but the mosquitoes came around to dispel that thought. I refused to let them get me down – and brought out for the first time my mosquito head net to keep them at bay. Nothing was going to stop me from enjoying two benches at a backwoods campsite.
I also figured out a great double use tonight – how to dry off your dirty wet socks from a fording? wrap them around your dinner bag while it is re-hydrating with hot water!
I snuggled into my tent, mosquito free only to find out that I could not find my FitBit. Argh! I also came to the realization that my plans for getting to Canada was not going to work out due to time. And I wasn't making anywhere near enough miles since leaving Snoqualmie. All problems to confront tomorrow… as sleep had other intentions on my soul.
Daily Stats:
Beginning mileage: 2402.4
Ending mileage: 2414.5
Trail Miles completed: 12.1 (yikes)
FitBit Steps: 34,633
FitBit Miles: 16.33
FitBit Flights of Stairs: 195
FitBit Calories Burned: 5,243
Weather: Hot!
iPhone Battery: 31%
---
People Parties Met: 8
Confirmed PCT hikers: 7
---
Wakeup: 6:15 am
Camp Departure: 8:45 am
Camp Arrival: 7:30 pm
Sleep Attempted: 9:45 pm
Camp Co-Inhabitors: 0
---
Sorest Body Part: My knees! All that downhill lurching…
Highlight of the Day: The trail beneath the Four Brothers – what views!
What did I shed from civilization: Any remaining concern that a day spent with less than 20 minutes talking or hearing a human voice is a day that I need to "get out more".
Realization of the day: Listen to people when they talk, not to your own responses – and in so doing, refine your ability to discern. It's not all about you – in fact, nothing is about you until you open your own mouth.
Trail tidbit I learned today: Wet socks are great insulators.