Start mile: 2393.1, 7/14/2018
I awoke at 6:00 AM rooting around my mind and body, looking under the tables that were my bones and the back corners of closets of my mind, trying to decide if five hours of sleep and a half day of rest was enough to take on what promised to be one of the most challenging days of the trail to date. I had 2300 ft of elevation gain in the first six miles and the famed Kendall Katwalk to cross. I would need huge helping of focus and determination to pull this off – they couldn't be sleeping in a corner, I needed them at the table and not under it.
I decided to go for it. But first I still had a lot of work to do – finish reorganizing the pack with the resupplies and getting the last of the blog posts up before I lost glorious net connectivity again.
In my resupply box shipped from home, I found two sentimentally delicious cards inside. One from my older girls (and wife) with words of encouragement, and an extra drawing from my youngest. I believe the drawing was of me hiking over the mountains and in the clouds – and not in a free fall from the Kendall Katwalk. The cards gave me much peace and confidence, support and smiles – all of which I really needed as I faced two considerably difficult days ahead.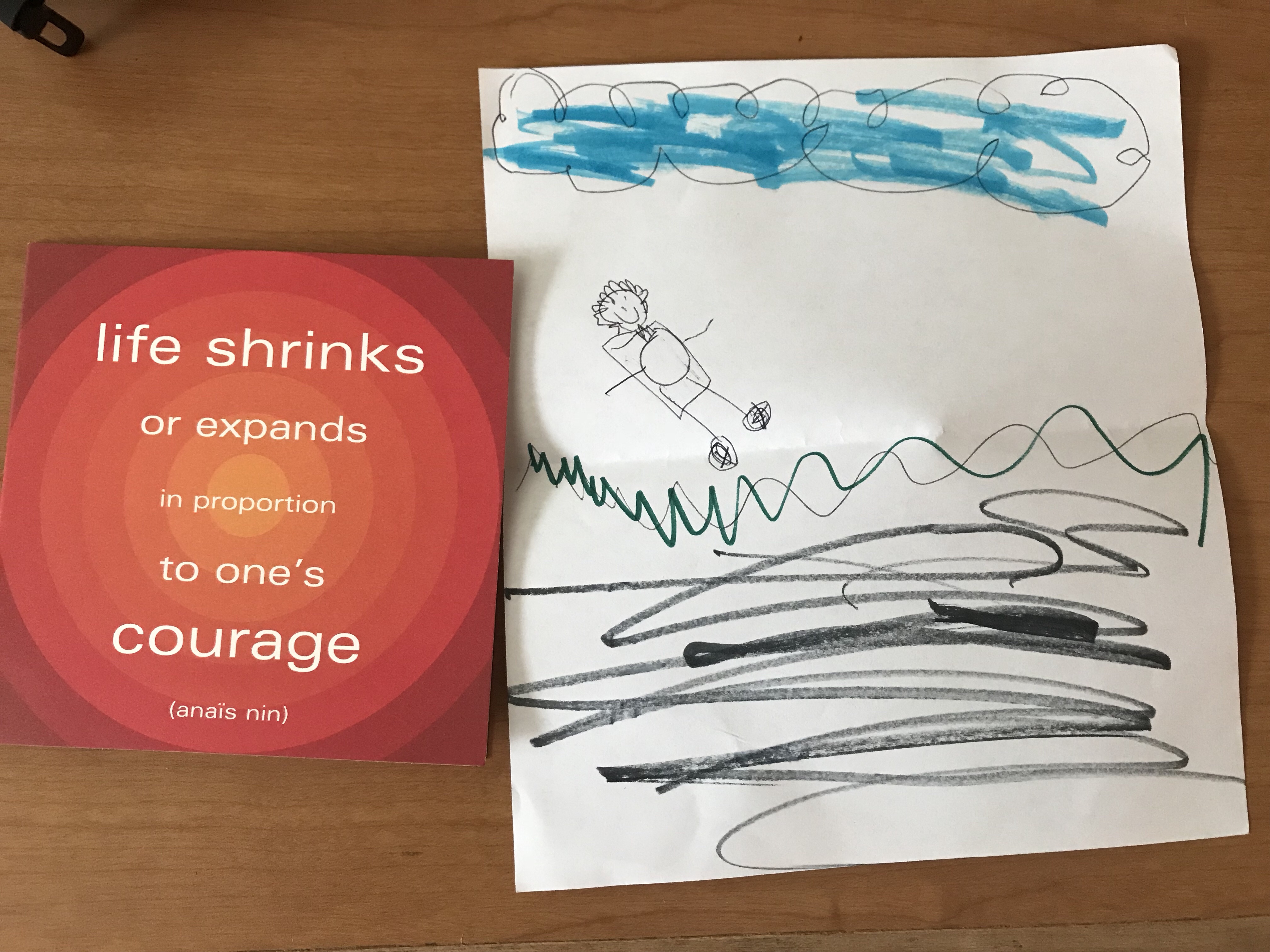 I also took advantage of the hotel's restaurant – wow, eggs really are delicious.
Before leaving town, I stopped in to the Chevron where I met up with a SOBO thru hiker that I've talked to several times now. I asked him if he was worried about the timing for the snow in the Sierras – and he started in on a canned response before stopping and looking at me with that pause we all know that says he is assessing me on whether to trust me. He then said, "You know, Truth, I haven't told anybody about this – but I'm thinking of just stopping at the border." It was said as if said at Confession. I asked him why, and he said "I'm just lonely." We chatted for a bit more, but the confession and the reason both caught me off guard. It put a new perspective on the trail. It also brought a stark reminder that I was distinctly not suffering from loneliness on the trail – in fact I was far from feeling like I had found enough.
I finally hit the trail at 10:45 after dropping off a few more things at the hiker box for folks doing the trail tighter than I. It was strange to begin by walking along a major road under an interstate.
With starting the trail today I began a new section – the Gamma section. It runs for 71 trail miles and connects Snoqualmie Pass with Stevens Pass. Elevation wise, it is a doozy – with four climbs in the 2,000 to 3,000 ft elevation gain range. The spacing is such that I will need to do two of those climbs in a single day.
So for today, the task was to conquer the biggest climb – a 3,000 ft elevation gain, 2,500 of it occurring in a continuous climb of 6.0 miles. The reward will be to see what all the fuss is about for the Alpine Lakes Wilderness. Just the walk to Kendall Katwalk was marked with these signs for the day hikers:
And fuss about Wilderness there was – its designation as Wilderness Area in the 1970's cause quite a stir. And until the PCT was constructed brilliantly right through the center of it, the area was largely devoid of any visitors at all.
Being the weekend, the parking lot was packed. I would see 50-100 people all told – most of which headed for the Katwalk and back.
It was slow going up the mountainside – but admittedly, that breakfast had lots of fuel in it. I really just had water for much of the ascent. My achilles spoke up about half way, and then really started shouting the final 25%.
Much of the hike up was blessedly forested in the first really hot day of my time on the trail, providing much appreciated shade. Eventually, it switched to rocky talus slopes as the trail reached towards the crest. And as said, lots of day hikers.
I met a fast mover who turned out to be a PCT thru hiker from 2016. We chatted for a bit – her trail name was "Little Red Riding Hood".
As the elevation climbed, so did the views. Mt. Rainer rose above the mountains from the previous days' hikes like a sunrise.
Kaleetan Peak rose above Snoqualmie Mountain to explain the use of the term Alpine for the Wilderness area.
And Red Mountain dominated the view to the north, as the Kendall Katwalk came into view in the saddle:
Heading up, I was passed by the throngs of people coming to see the Katwalk. To entertain myself, I worked hard to come up with new ways to respond to the "Hi, how are you?" volleys. I took it as exercise for poetry, using words ranging from delectable to indubitably.
Despite the heat, the hike up also included some patches of snow to add a bit of trepidation to my intrepid steps for what may lie ahead:
Also with the views, Red Mountain needed no explanation:
With the red rocks mirroring the formations on Red Mountain, some of the metamorphic displays seemed like they were pulled from a Picasso painting:
At last, I approached the famed "Kendall Katwalk" – seen by following the trail to the right below.
The Katwalk is a section of the trail that is blasted on the side of a steep slope/cliff and then suddenly switches over to the other side of ridge, also blasted out over a cliff.
The views both directions were very different.
It was also fun to explore the shapes of the rocks at the Katwalk with the mountains in the distance.
And as frames…
And lest their be any doubt, the cliff side precipice at the katwalk was indeed terrifying. This is the view looking down from the edge – 3D depth is destroyed in photos, but to help your mind – focus on the size of the trees at the bottom.
Simply put – it was gorgeous. It is hard to capture such vistas in images, but suffice it to say that this was a reward far more valuable than the sacrificing pain of the exertion to get there.
From the Katwalk, you could also see the Four Brothers beneath which the PCT runs along a beautiful wall hike – and where I should be traversing before nightfall to keep my mileage.
Gleefully, I continued on from the Katwalk and said goodbye to the day hikers. Amazingly, the views just got better and better.
If you haven't noticed, I took a break from my internal Canterbury Tales trip for a day. My mind needed to be all on getting up the mountain or on enjoying the views. The area is called Alpine Lakes for a reason:
I also started to cross more and more snow drifts, becoming more and more common. Some drifts (but not obviously the one below in the image) had me quite nervous as they were on very steep slopes – with no soft landing at the end. The snow was soft with the heat, so there was little chance of not finding a good footing. That said, if I made a mistake and started sliding, I would only accelerate quickly.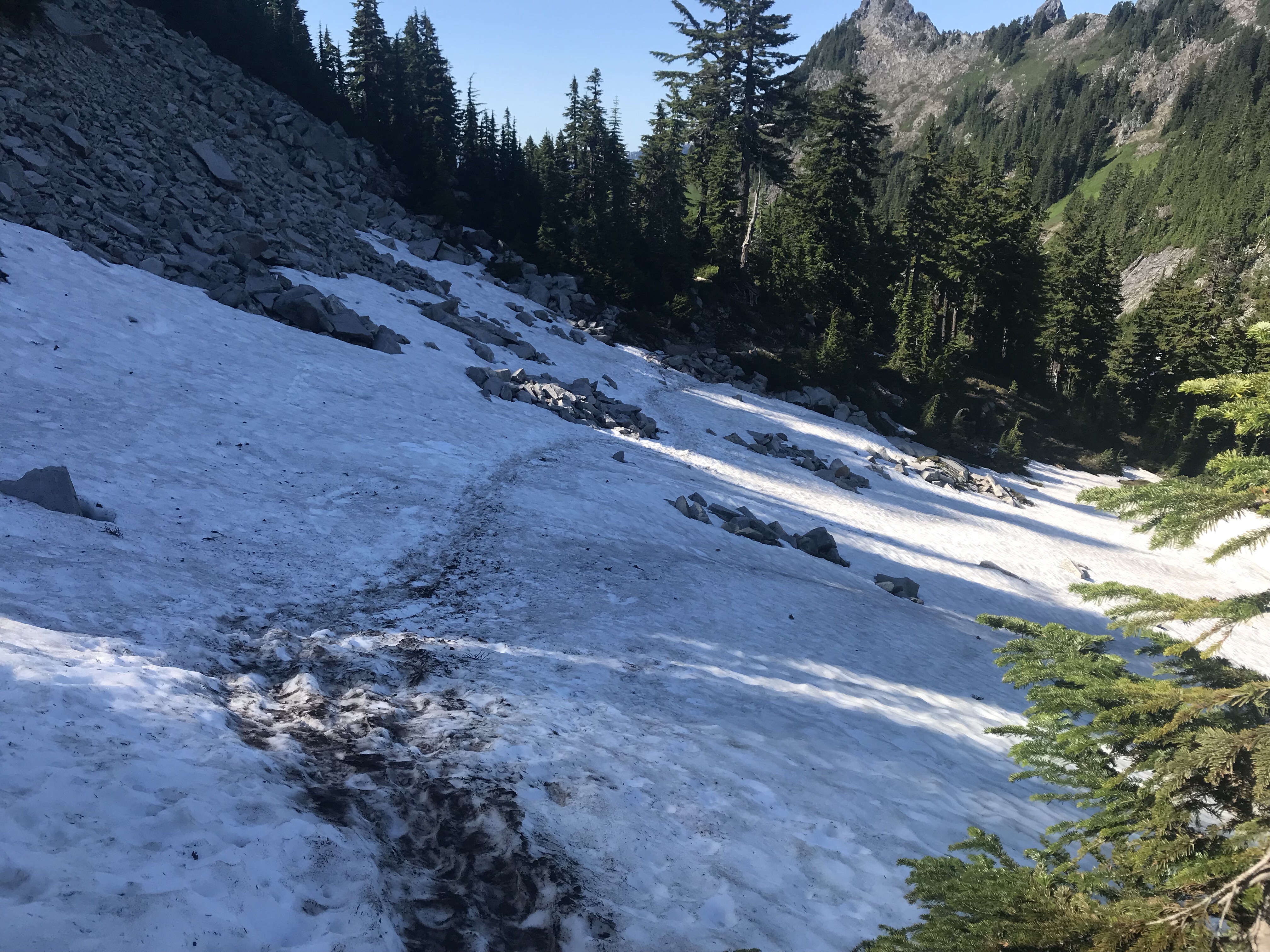 The views really just kept surpassing themselves with every turn. The trail was dizzyingly etched into the side of the ranges, and managed to seem to connect all the ridge lines together. This was not a trail for those fearing heights – and was a huge tribute to the talented surveyors that made the trail through the region.
As I continued on, Mt. Rainer made its appearance again. Absolutely beautiful!
Time was getting late and I was dreadfully behind my expected mileage for the day – too much lingering in Snoqualmie combined with lingering for the views. It was hard to keep the pace when every twist and turn revealed a new wonder – all with Mt. Rainer standing watch as if both fellow observer and object of my views:
I caught back up with Riding Hood and she was chatting with a French thru hiker named Juju. Juju told me of his pass through a Glacier Peak – and like everyone I have talked to thus far, he was convinced he was one of the first ones through. Real nice guy – and very affable. I could listen to him for hours – and after giving him some Via packets (he is French after all – and sadly, my love of coffee has not manifested itself in the trail) I wrapped up our conversation and headed to leave.
But then Juju started telling the story of being struck by lightning between Stevens and Stehekin Pass! He and three brothers were camped on a hill listening to a fierce storm approach, counting the decreasing numbers of seconds between flash and boom.
As they were counting the closest one yet, zap! the tree they were under was hit and they all went flying. Juju could no longer stand as his muscles were all wigged out. One of the brothers was unconscious for 15 minutes, eyes rolled back. He had a tuna packet in his parka and it completely melted the parka, and his clothes were shredded. His reward for surviving being the hardest hit of the four of them was to get the trailname of "thon" (taun) – which is French for Tuna.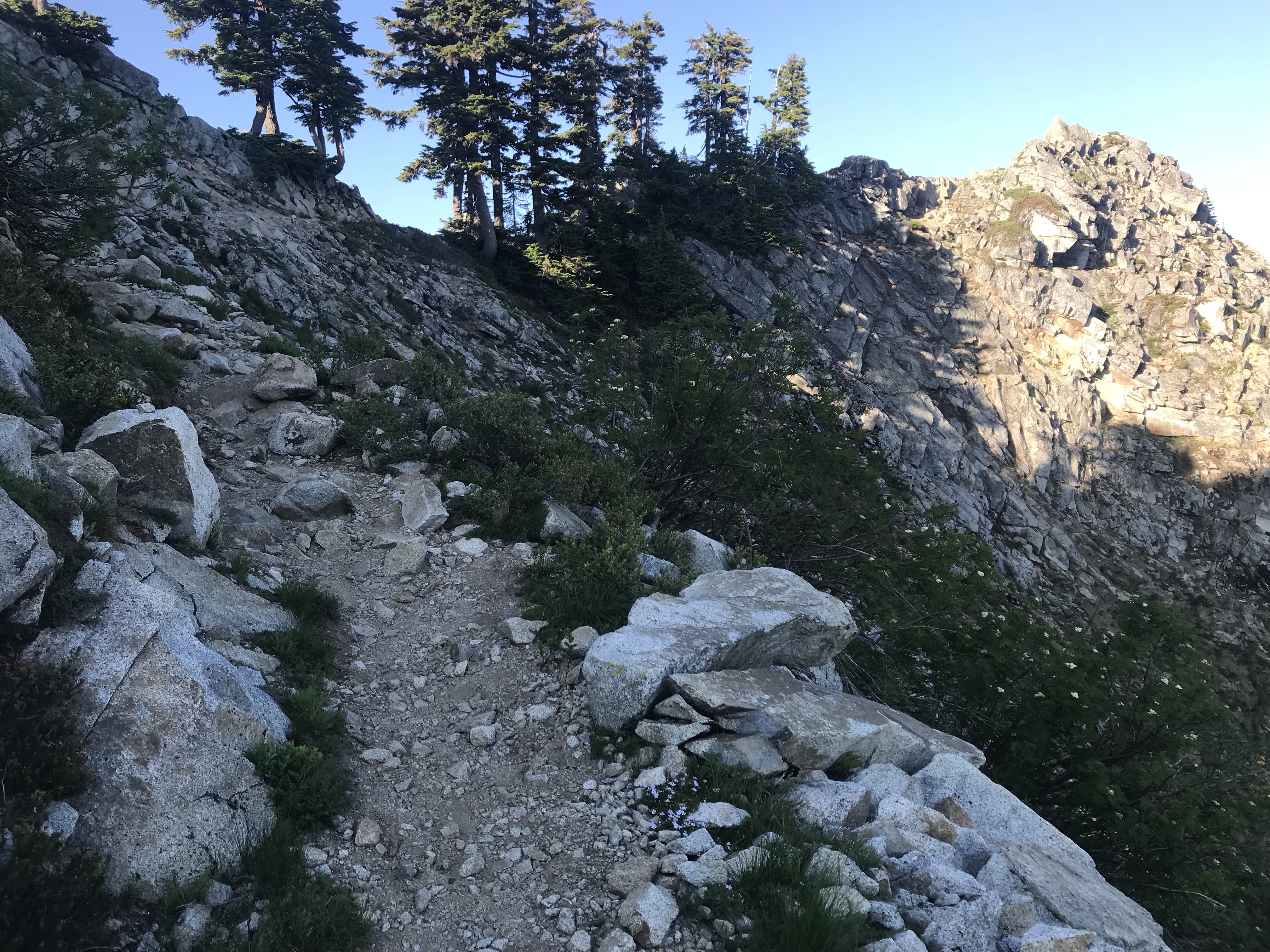 Being 50 miles from help they just waited it out. The brother regained consciousness and the ringing in their ears would eventually decrease over the next few days. They checked in to the hospital when they reach Stehekin, two-three days later and they gave Tuna the clean bill of health.
They say that lightning is more dangerous on the trail than any bear or cougar – and here was first hand knowledge. It made me think of my Uncle Warren who was struck by lightning three times in his life.
I really had to be going so I bid adieu and headed on, trying to get some miles in. I had only gone a short way, and then I met Hot Tuna and his brothers.
Of course, I had to see the shredded shorts and snapped this photo. His shredded shirt was so bad that he left it on the hiker box in Stehekin as a warning to all the other hikers.
The brothers were a tired but jovial lot, no doubt a mixture of relief, emotional exhaustion and "I'm lucky to be alive" joy. I snapped a hasty photo of them before moving on. I told them that Tuna should be called "Hot Tuna" to really capture the moment.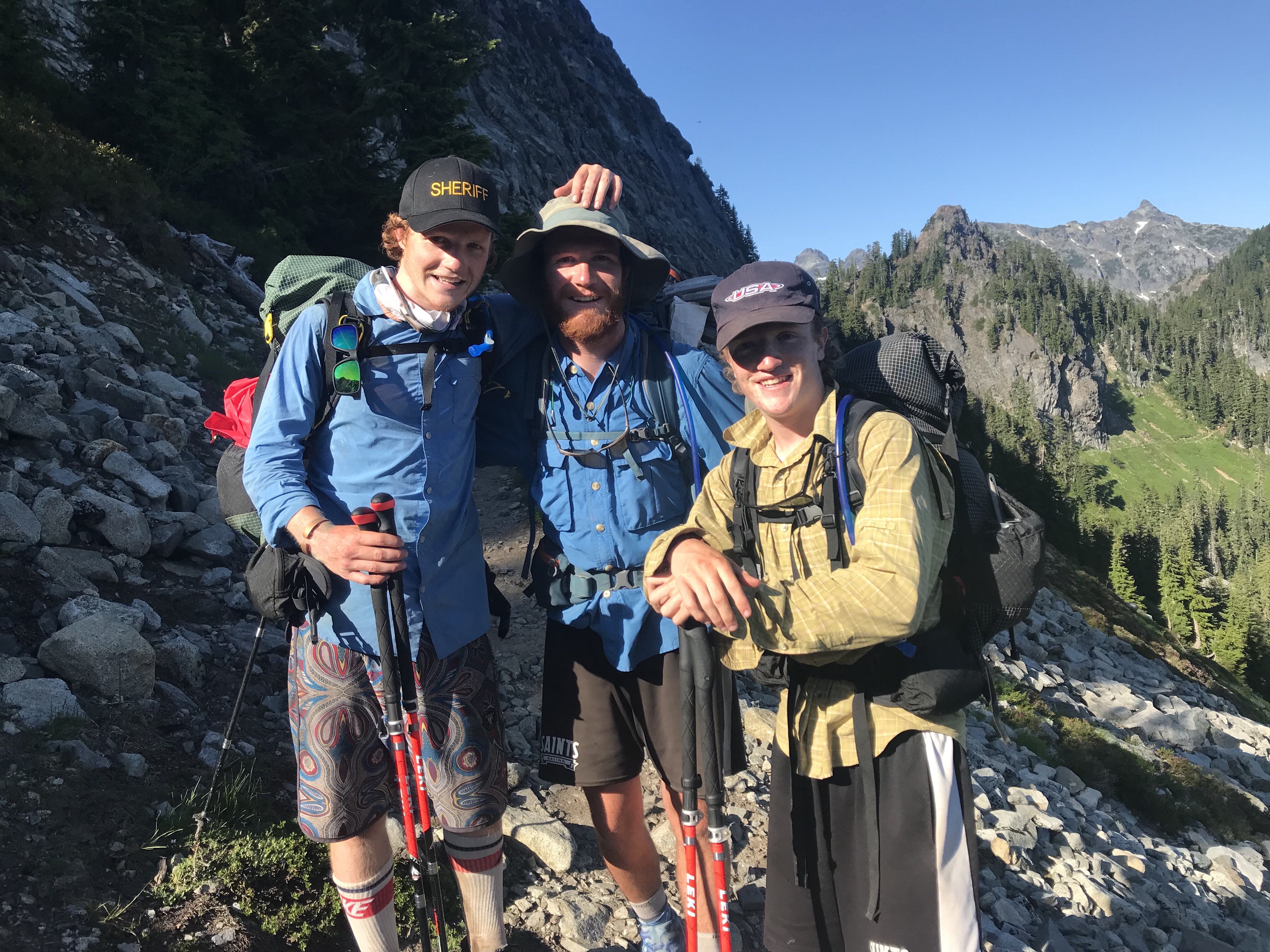 Back on the trail, I passed by one of the marked water sources that was a spring under a rock that promptly disappeared back into the mountain. It was as if a miniature wash basin was placed right into the side of the mountain for trail goers.
After more heart stopping vistas I finally said enough with the racing for miles and resigned myself to the fact that I would have an "under" day. Between the beauty of the place and my five hours of sleep, I was done trying to run through the place.
I found a dry campsite (if you ignore the snowdrift I was sharing the site with) that was situated in a saddle with two alpine lakes on each side. What an incredible place to camp for the night.
I soon discovered another weekend camper taking a spot around the bend. It was funny to watch the engineer try to hang a bear bag while being eaten alive by bugs. 🙂 we laughed and then I went back to my place and barely made dinner before heading to sleep.
Daily Stats:
Beginning mileage: 2393.1
Ending mileage: 2402.4
Trail Miles completed: 9.3
FitBit Steps: 30,681
FitBit Miles: 14.47
FitBit Flights of Stairs: 317
FitBit Calories Burned: 4,620
Weather: Hot!
iPhone Battery: 55%
---
People Parties Met: many many
Confirmed PCT hikers: 3 – all sobos
---
Wakeup: 6:15 am
Camp Departure: 9:30 am
Camp Arrival: 7:30 pm
Sleep Attempted: 9:30 pm
Camp Co-Inhabitors: 1
---
Sorest Body Part: My mind was just beat
Highlight of the Day: The views, by far
What did I shed from civilization: Canned exchanges in passing pleasantries – I replaced it with poetry as best as possible.
Realization of the day: I'll never tire of majestic views, and images of them simply do not count
Trail tidbit I learned today: Lightning is for real!