Off trail, 7/7 to 7/8/2018
I awoke in the posh Redmond Marriott with enough recovery to sit down and mark out some options.
I first did some research – and here is what the trail looked like for Stevens Pass (where I was supposed to be in two days):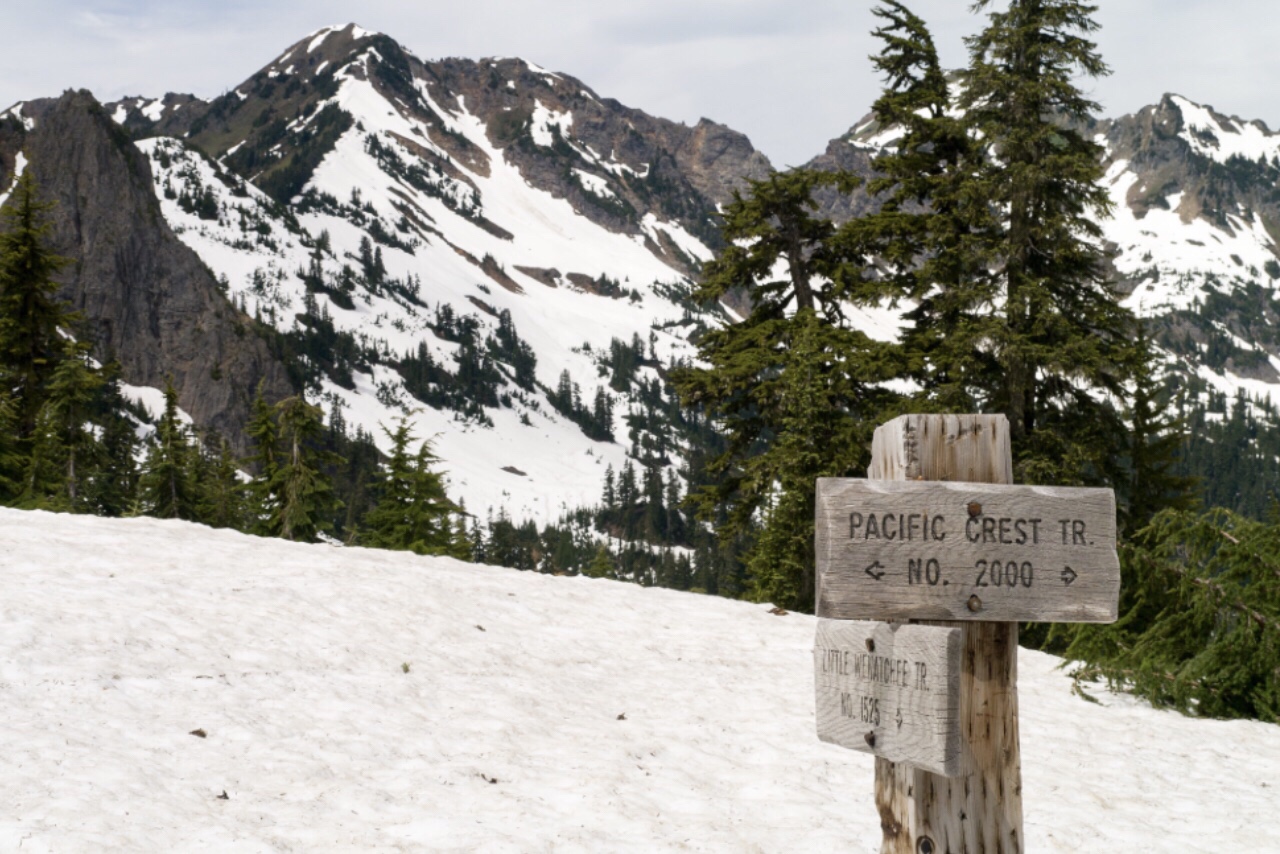 Yup – still snowed in. This was from another hiker from a just a few days ago.
Demoralized and depressed, I laid out my options:
Options
Go to Portland:
1. Stop, go home, be with the family
2. Head back home and use a car to do longer three and four day hikes.
3. Figure out a way to get to the PCT and head south.
Stay in Washington:
1. Go to Stevens pass and rough it out
2. Find some 3-4 day hikes here in Washington, have dad drive in and out
3. Find another trail – Pacific Northwest trail?
4. Do one of the lower altitude routes in Washington that are PCT alternatives.
In the end, I decided to rough it out and try to continue on. The weather forecast included snow today at lower elevations, and that was enough incentive to delay my start by a day.
The following two days would still be cooler temperatures – including rain the second day – but increasing to "normal" weather in three days.
Turns out that in the northern cascades they had both a very high snow season, and for the past month of June, 28 of 30 days were below average in temperatures. No wonder the snow is causing such problems.
So all that aside, I now had a plan: 1) go to whidbey and recoup for a day, 2) travel to Stevens pass the next day, 3) begin the toughest section of the hike – a 7 day stint without services – starting early the next day. 4) from thee, the first two of the seven days would be the toughest, and then the warmer weather should start helping on the melting, assuming I got hiking in early in the morning before the thaw would cause the dreaded postholing.
With a plan in place, I again leaned on friends and family – this time a very gracious set of parents who let me sleep the first day and repack the second. Th am you so much mom and dad for helping me and being that base rock to stand on. You guys are awesome. Special thanks to dad for his willingness to travel across the state shuttling me around.
From my parents house I took note of all the peaks they could see from their deck to see how many I would see along the way. Here is what the view looks like (a little colorized to pull out the mountains):
Using peak finder, here are some of the big peaks in their viewpoint.
The grandaddy is Glacier Peak, another stratovolcano that goes along with Mts Baker, Rainer, Adams and St. Helens. But because it is shorter the the rest ("only" 10,500 feet – still 2,000 feet taller than Helens, mind you), it just doesn't get the respect it is due, failing even to get the "Mount" prefix. That said, Glacier Peak will get it's due as it is one of the most geologically active volcanos in the northwest and has erupted five times in the last 3,000 years – making it very active.
In the image from parents place, Glacier Peak is solid white – and the PCT travels right by it on this next section.
And for completeness, here is what the trail looks like before Glacier Peak (albeit with a lot more snow):
After a repack to include colder weather gear, here were some stats on weight:
Full body. Pack, clothes weight: 223 + 1 pound of food still to be bought
Minus pack 178.4
Minus clothes 174
Yikes -that puts my pack in at 46 pounds. Yikes. That is 6 pounds over my cutoff amount. And 6 pounds is just about exactly how much water I was carrying. So if I could just forgo carrying water…
And incidentally, I've lost 7 pounds on the trail, and 12 pounds in the six weeks since I started training.
For those curious, here are the contents of my pack:
First, the body:
Hat with flaps (for cooling and sun protection)
Ex officio bug repellent shirt
Ex officio undies
Mountain hardware pants (permethrinned)
Darn tough socks
OR gaiters
Fitbit
Pocket knife
Altra Trail Shoes
Black diamond carbon poles
Corsa camp ice axe
Outside of pack:
Cut away water bottle for scooping water for filtering – plus a handy gold filter I installed in the nozzle
Essentia (or later Smart Watr) water bottle
Emergency whistle
Garmin inReach mini
Night head lamp
Columbia sunglasses
Nanotowel (bandana, head scarf, camp towel, dish towel)
Map kit:
Cut up trail maps and cut up trail description from books
Reading glasses
Clothes
Extra shirt (I sleep in it, and keep it in reserve for daytime use)
Fleece pullover
Mountain Harder whisper puffed parka
Extra pair of undies
Extra pair of socks
Stuff sack with terry cloth to double as a pillow
Dark blue stuff sack has a number of kits:
Misc kit
Carabeener
Insect repellent
First aid kit
Civilization kit
External charging battery 1300mA
USB lighting cable
Super mini usb wall adapter
FitBit charging cable
Garmin charging cable
Credit cards, passport, cash, license
Toiletries
UL trowel
Five TP per day
Sanitizer
Vasoline
Swiss Army knife
50 ft of rope
Snow kit:
Micro spikes
Hat
Gloves
Snow tips for poles
Kitchen kit
Burner
Lighter
Aluminum foil
Titanium pot
Fuel cartridge
Also shown here is
my sleeping bag in a compression sack
my Thermarest neo inflatable pad
Food is 2 pounds per Day with a minimum 100 calories per ounce requirement
Also included is my sawyer water filter, and my 2.5 liter water bladder
My pack: ULA Catalyst
That's about it. Lots of stuff for 42 pounds.
So after the second day off trail drew to a close I found myself in the tiny town of Skykomish trying to get some sleep before an early morning departure.