Start Mile: 2197.9, 6/27/2018
I woke up to a morning cough that promised me that I would have some challenges ahead.
As I laid in bed not wanting to get up I realized suddenly that the PCT is not a long series of day hikes. It is a series of walking marathons forming a massive marathon lasting weeks and months. And it is a marathon without a support crew offer water bottles every mile. Closest thing is supply boxes and those are not guaranteed either – the subject of my tough call yesterday. With this mind shift from long but natural hike to an arduous marathon setting in, I got off my ass and got to work. Mornings are for hiking and I was way behind.
With my first steps from my camp site, I entered Indian Heaven Wilderness – a place I have longed wanted to visit but never had due to its relative (and now I really mean relative) remoteness.
Indian Heaven is known for two things: huckleberries and mosquitos. Given the early season of my visit I knew I would be trading in my portion of huckleberries for a double portion of mosquitos.
This sign at the beginning also made me doubly appreciate the scores of volunteers that make the path in front of me so blessedly easy. Thank you.
Walking through the season, as I shed time as I gained elevation, I found Wake Robins just past bloom, bear grass just beginning to form …
… and dainty little spring flowers like this one:
Clearly these were signs of spring thaw not summer bloom. To top it off I found myself my first Avalanche Lily which is a sign that snow was only freshly melted – they are the first flowers to bloom.
Hiking up the much nicer trail, I found humor in the name Indian Heaven, and its non-PC name. The humor was in realizing that "Native American" is their trail name, Indians is the name someone else gave them. Funny analogy.
Then, there it was – the first hint at what I was dreading – a small pile in the trail, and then another and another. SNOW.
Continuing uphill, I found something I had never seen before – first time on the journey. It was a bright orange funghi cup, reminding of a tilt-a-wheel amusement park ride.
Passed by sheep lake, which is just a grimy mud puddle when the NOBO thru hikers hit it in late August (with much derision as it is the first water in potentially 20 miles). Not now though. Though it's the first water in many miles, I am pushing on as plenty of water awaits and I still have a small ration of water left. Again, weight is king.
This next shot I took simply because a marshy field thus far has been a rarity on the trail.
As I enjoy my first fragrant patch of phlox, I realized just how easily wildflower names have come to me from the days when I maintained websites dedicated to them, despite so many times my memory has failed me when attempting to recall their names on urban and Day hikes. Memory is context driven – as the memorization expert has taught me. Thus, what would happen if you take an Alzheimer patient out of their facility and walk them through their locations?
A wonderful view of Hood soon sprang forth and I yet again became frustrated that it's dominating point on the horizon fails to be captured in photos. Jefferson is barely visible on the right.
The trail took a brief stint through a burned out section from last years fires. You could quickly tell just how intense the fire was.
But hope springs eternal, has shoots of bear grass could be found on the edges of the fire.
I also got a kick out of this image – the closest thing to digital that I've seen on the trip thus far:
I also saw this conundrum – my best guess is that several trees formed a dam on a meltwater river and they suddenly and violently came unlodged and exploded like shrapnel going down the hill and a wall of water.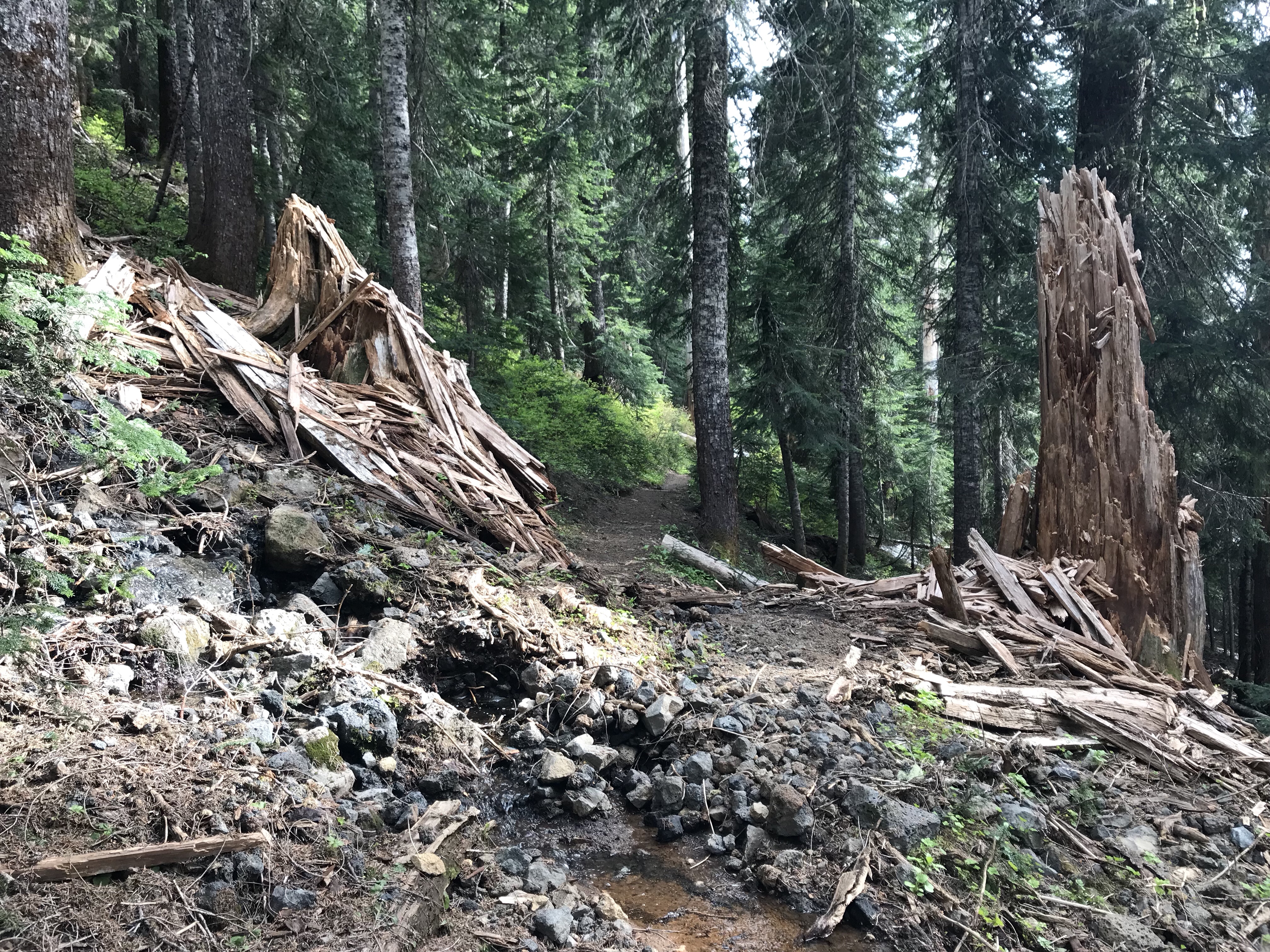 Things then went south in a hurry. I had a phone call back to home and things sounded pretty overloaded there. From yesterday's call I already had made the decision to move future supply packages to my dad. I soon became moderately uncertain the Friday shuttle was going to happen. I would hear back shortly whether it was possible or not.
After two hours, I continued on into Indian Heaven. Between the cold and the mosquitos, and even more so, the possibility of not having a shuttle, emotions stripped over me. I had realized just how much I put the Resupply packages and shuttle has my emotional end zones. They were my life blood, my "I did it!" that kept me going for my first week. I had to strip that away.
I also realized just how different "urgency" is based on context. Here it was things like "will this snow lead me to be thoroughly lost?" "Well I sprain an ankle the next time I posthole?" "Will this cough stop me in my tracks?" "Will the cougar materialize?" "Have I said 'hey bear!' Since the last turn as I walk through bear habitat?" "Have I eaten enough food?" "Is this shivering deep rooted?" All minor things when viewed from the urban life, but yet all have serious consequences if I chose incorrectly.
At home, the urgencies are far more complicated and I dare say dramatic – but the consequences are far less severe. Disconnecting the complications in the urgency from the severity of the consequences seems to be missing in modern life. We have removed so much risk in the comforts of modern life that we seem to have double down on the urgency aspect because ultimately the consequences for failure really not that severe.
The key of course is being able to float between those worlds and keep clarity on both lifestyles in order to have calmness in the urgency, perspective in the consequences but still roots into the severity of life that lurks below the surface – and exposure to the risk to still be able to look at oneself and say you are living fully. This balance between the four poles seems to be a core principal to those few people I've met that are quietly wise. That's where I need to be.
I pushed through to try to catch up with Woodchip who had passed me while I was on the phone, all the time fighting battery and connections trying to get either phone or sat device to get connections. I got a few messages out but no firm confirmation I would have a Friday pickup.
Meanwhile the trail at one point had red tape across it – stopping us from which direction?
After skipping lunch and soon dinner I munch on nuts while I stood in a large snowfield to waiting to get a text message from the first reliable sat connection. Still no response. The idea of connecting with Woodchip and hitching a ride in to Trout Lake in the morning or evening was starting to sound really attractive.
At 6:30 I gave up on getting confirmation and soon reconnected with Woodchip where we mulled the options. They were exhausted and hurting and were pushing through to their car still 5 miles down the trail. Turns out, they were going the opposite direction of Trout Lake and offered me a ride back to their place in Tacoma.
So I stepped through the options:
Go to Tacoma and figure out how to get back on the trail
Stick to plan and hope the pickup would happen, which meant camping now due to lateness,
Get to Trout Lake on my own, and reassess in a nice warm room. If I heard from my wife by then and she can make the shuttle, then it will be easier for her to pick me up in Trout Lake than a trail crossing on a dirt road.
With the cold coming in, my body exhausted, a need to start planning out resupplies and … oh, did I mention the cougar tracks layered over elk tracks on the trail?
Or did I mention the trail was increasingly difficult to find?
My desire to camp was depleted and emotionally I needed a normal bed. So I made the call to go to #2, and head to town.
So I wistfully left the trail and said goodbye to the last lake of Indian Heaven. Here is my exit point:
I had limited light and started to head down the very steep Cultus Creek trail to a campground below. Light was getting limited. Sadly, this trail was far steeper, more snow covered, and was bordered by a steep cliff.
Where's the trail? :
I finally took a moment from the rush when a view of Adams came in to focus on the edge of that cliff:
As I stopped to ponder where I was at – supplies in limbo, shuttle in limbo. I tried to use the long view of Adams to help me recenter to the new state of being and reality. I couldn't make the resupply points, or shuttle, or promise to see my girls the thing that would keep me motivated on the trial – I mean trail. Instead, the motivation must come from within.
People knock individuality, self reliance and rough rugged individualism. But today I was reminded that you must start there. If you choose to make dependencies, to go through life with goals and definitions of contentment based on the involvement of others – that's fine. But they need to be additions just like your identity is always adding not changing. Thus there is always a core that you can unswervingly, unnervingly, undoubtably depend on – and that is your spirit, your own resilience and your own determination. If that core is strong, then you can push forward no matter the condition.
With that epiphany, looking up I saw Adams again and it reminded me that my predicament forced other issues to come to bear.
Adams was clouded over and I needed still to confront the immediacy of my situation.
I had thus far hiked a grueling 17 mile day through snow and with no lunch or dinner, a persistent cough, Achilles burning, dropping temperatures, snow clouds arriving, cougar tracks chasing elk on the trail a mile back, I could see my breath, and I had fading light with two miles still to go to an unplanned roadside tent site off trail. As it began to rain, I set off for the tent site – but now energized to confront what lies ahead. I have determination.
I pushed on – not even the sight of the cougar tracks continuing on on this trail deterred me. The snow was intense, heightened by the cliff and steep descent.
Eventually both tracks and snow went away as darkness came. My cell phone pinged suddenly with a reestablished connection. I was able to get some texts out and found out that my wife would indeed do the shuttle.
I arrived at camp at 9:45 pm in pitch dark. Turns out the camp was a huge USFS camp. Clearly it was not open for the season with branches everywhere and not a soul in sight. And enough trees to make a sat connection home possible (lord knows I tried). I cooked a quick Mac and cheese and collapsed into bed. What a day.
Day 5 Stats
Beginning mileage: 2197.9
Ending mileage: 2210.8 (exit)
Trail Miles completed: 12.9
FitBit Steps: 43,005
FitBit Miles: 20.28 miles
FitBit Flights of Stairs: 295
FitBit Calories Burned: 5944
Weather: everything sunny, warm, cold rainy, see your breath chill
iPhone Battery: 28%
InReach Battery: 12%
---
People Parties Met: 1 (same)
Confirmed PCT hikers: 1 (same)
Conversations about PCT: none
---
Wakeup: 4:45 AM, then 7:30 AM
Camp Departure: 10:00 am
Camp Arrival: 9:45 pm
Sleep Attempted: 11:45 pm
Camp Co-Inhabitors: 0
Morning Pack rolls: 5.5 (maxes)
---
Sorest Body Part: Mind
Highlight of the Day: view of adams
What did I shed from civilization: urgency without consequence
Realization of the day: rough rugged individualism must be at the core
Trail tidbit I learned today: snow sucks