The Ingress Glyph Memorization Guide
Need help memorizing Ninantic's Ingress Glyphs? This guide is a visual tool to help, with glyphs logically ordered in groups, from easy to difficult.
Note: This data is straight from the Glyphtionary which should receive all credit for creating these images and organizing them - huge kudos to them. Please visit their page for a complete list. (Ideally they would host this version on the glyphtionary website).
I love getting suggestions from agents (enlightened and resistance alike!) for better memorization tips. Just send a message to @FaxMelior in ingress comms. Please include your own agent name embedded into your message, so I can credit you!
General Tips for Memorizing Glyphs:
Just in case you are lost - glyph hacking is a game inside the Ingress Scanner when you hold the hack button down for 1-2 seconds.
At a minimum, make up your own words for glyphs to memorize them (spider, golf club, kite, box, bow tie). But after a time, start learning the official words they represent as shown below, because...
... all glyph combinations make meaningful sentences when translated, and its easier to commit a sentence quickly to memory than 5 disconnected words.
Its best to learn glyphs in groups, as shown below. Usually the difference between the glyphs in a group are minor or symmetrical.
Some glyphs are far more common than others. The list below is ordered roughly in the frequency - that is, learn from the top to the bottom.
A good number of glyphs just aren't common enough to warrant memorizing. These are listed at the end.
When you see the glyphs appear in your scanner, verbally speak their names to help commit them to short term memory. When you see one you don't know, say the word "skip" out loud.
When entering glyphs and you hit a "skip" for one you don't know, just tap the nearest dot to not waste any time.
Some glyphs have multiple words associated with them as shown in The Glyphtionary, but I just list the most common here for ease of memorization.
Several glyphs show symmetry or movement from left to right. In this case, to help remember the differences, think of left as "before" or "bad", right as "after" or "good".
Similarly, some glyphs show symmetry or movement from top to bottom. Think of up as "good" or "heaven", down as "bad" or "hell".
---
Ingress Fundamentals:
Tips: Humans are like baseball home plate, Shaper looks alien like, Portals are like goggles to see them, XM is sort of the letter X and M combined
Human
Shaper
Portal
XM
---
Time:
Tips: Imagine a rotating cupped hand from left to right, past to future
Past
Present
Future
---
Metaphysics:
Tips: Remember in order mind-body-soul, visualizing a kite flying in the sky
Mind
Body
Soul
---
Factions:
Tips: Shaped like the logos, obviously
Enlightenment
Resistance
---
Battle:
Tips: War is like a B2 bomber, defend is opposite. Advance and Retreat are the two sides of attacking.
Attack / War
Defend
Advance
Retreat
---
Civilization + Nature:
Tips: Civilization is the opening of pandora's box. Nature is the opposite, and is also shaped like a hill.
Civilization
Nature
---
Create / Destroy:
Tips: Create rises up in a positive way, Destroy trends down in a bad way. Clear resets between them.
Create
Clear
Destroy
---
All:
Tips: All the way around is all, combine with clear and open for compound glyphs. For open, think of it as a keyhole to open a door.
All
Clear
Clear All
Open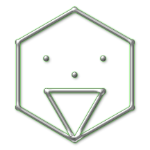 Open All
---
Yoga:
Tips: Perfection=Pendulum (alliteration), Imperfect makes no sense (don't bother memorizing), Harmony is a balanced hourglass, Harm is half of "Harm"ony (hey, it works)
Perfection
Imperfect
Harmony / Peace
Harm
---
One-offs:
Tips: No relation between these, but all are common enough to learn by this point.
"Again" is drawing a spike, then another again. "Have" is like a hook to grab something to make it yours.
Hide is to hide in the bow of a boat. Danger is a person's profile (with nose) looking to the left (bad). Together is a hand outstretched for grasping by another.
Again / Repeat
Have
Hide
Danger
Together
---
Heartbeat:
Tips: Imagine a heartbeat. If the beat is going up (good) that's courage, if down (bad) that's fear. Conflict has both (it also looks like doberman ears for conflict)
Courage
Fear
Conflict
---
Purity:
Tips: Golfclubs pointing down (bad) thus impure, or up (good) thus pure
Impure
Pure / Purity
---
Truth vs. Lie:
Tips: Truth stands forever, thus infinity sign. Lie is an imperfect truth, thus missing the lower left link. Idea is like truth just larger, but not complete.
Truth
Lie
Idea
---
Journey and Chaos:
Tips: These two are the long ones - first is a journey through the dots, second is the chaos of going every which way. These are worth memorizing because they show up frequently.
Journey
Chaos
---
Improve/Deteriorate:
Tips: Improve is quite common - its a check mark pointing up and right (good). Deteriorate is the opposite, and generally doesn't appear (nor another similar one "Abandon").
Improve
Deteriorate
---
Information:
Tips: Message and Data is like the lightning bolt for data transmission in presentations, messages run horizontally on fiber lines, while (cellular) data comes down from the sky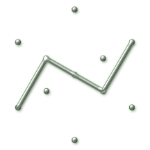 Message
Data
---
Inhale/Exhale:
Tips: Breathing is mouth open to the sky, Dieing is mouth open face-down, dead in the sand
Breathe
Die
---
Equality:
Tips: Equal is like an upside down "now" glyphy - i.e., it simply is, like the present. Not is equality undone - i.e. missing a leg. Note that Inside is the same as Not, despite unrelated meanings.
Equal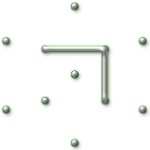 Not / Inside
---
Center dots:
Tips: Simple is the simplest glyph - dead center. Strong is the strongest (and centered) while weak is strength askewed
Simple
Strong
Weak
---
More or Less:
Tips: Stability is a low-centered and wide platform. Safety is a higher level of stability.
Stability
Safety
---
Moving Forward:
Tips: Path is movement from the past (left) for the good (up). Barrier is the opposite - and looks like a barrier for travelling left to right. Distance measures the start and end point of the path glyphy. Destination is a path in the future (hence, on the right).
Path
Barrier
Distance
Destination
---
One-offs #2:
Tips: No relation between these, but all are somewhat common and worth learning at this point.
Discover is like a cup catching opptys. Change is a scribble to redo. Potential is like a water tower, filled with potential energy.
Discover
Change / Modify
Potential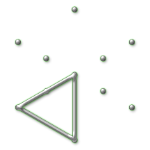 Nourish
Destiny
End / Close / Finality
---
More or Less:
Tips: greater than / less than symbols, except pointed down (less) or up (more)
More
Less
---
Gain and Lose:
Tips: Gain is a line towards the self, whereas Lost is a line away from self (thanks to anonymous agent!).
Gain
Lose
---
Problem Solving:
Tips: For the android users, ignore is the way you decline a call on many Android phones (Thanks @AllBunsBlazing!). For Forget, it is the part of "past" that is not "old" (thanks to anonymous agent!)
Forget
Ignore
---
Aging:
Old as part of "past", and New is part of "Future" (thanks to anonymous agent!).
Old
New
---
---
---
Not worth memorizing: (In My Humble Opinion)
Tips: These are either too complex or too rare to warrant memorizing. Recommendation is to ignore these. If any of you have tips for these, though, send a message in comms to @FaxMelior and I will add them - just remember to include your agentname so I can credit you!
Abandon
Adapt
After
Answer
Avoid / Struggle
Before
Begin
Calibration Grid
Capture
Complex
Consequence
Contemplate
Contract / Reduce
Creativity
Difficult
Easy
Enlightened / Enlightenment (Type B)
Escape
Evolution / Success / Progress / Progression
Failure
Follow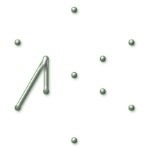 Grow
Help
I / Me / Self
Interrupt
Knowledge
Lead
Legacy
Liberate
Live Again / Reincarnate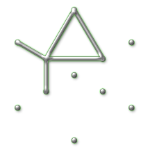 Mystery
Perspective
Presence
Pursue / Aspiration
Pursue / Chase
Question
React
Rebel
Recharge
Resist / Resistance (Type B)
Restraint
Save / Rescue
See
Seek / Search
Self
Separate
Share
Unbounded
Use
Victory
Want / Desire
We / Us
Worth
You / Other
[unknown]
[unknown]
[unknown]